Another year, another set of Black Friday and Cyber Mondays skipped. In fact, as a business, we've never 'celebrated' either. Don't get me wrong, we want to share our products with the whole world and make them 'affordable' - however, the question we always ask is at what cost?
Billions have been spent trying to snag a bargain in the run-up to Christmas. As scrutiny turns to whether or not the deals on offer are genuine discounts, as opposed to marketing tricks, spare a thought for the thousands of extra deliveries that will be made and the resulting congestion, CO₂ emissions, and stress that this shopping holiday creates.
The logistics of meeting the rising number of online orders during these seasonal events is incredibly difficult. Big retailers have tried to adopt sales strategies like promises of next-day delivery, only for delays and cancellations to ensue. Logistics companies like Yodel have learnt from past failures and hire thousands of extra delivery drivers to cope.
Demand for more drivers underscores the highly seasonal nature of shopping, with similar spikes on Mother's Day, Valentine's Day, and of course, Christmas. Although the industry is constantly learning from past mistakes to better serve customers, it neglects crucial energy, mobility and health issues. Behind the scenes, the infrastructure that makes all this online shopping possible is huge – the extra delivery vans add to already congested roads, and drivers suffer from stress and tiredness. Seasonal shopping events like Black Friday and Cyber Monday harm people and the planet.
(c) Robin Pierre, Unsplash
If, like us, you're tired and want to have more sustainable celebrations this year, we've got a few tips and tricks that we think will help - 
1. Rent, recycle or reuse your tree
The most environmentally friendly way to have a tree is to rent one. "Customers love the idea of being able to contribute in some small way towards sustainability and a healthy planet," says Craig Tennock from 
Cotswold Fir Forestry
, which hires out trees in Gloucestershire, UK "Then there's the aspect of being able to have your very own personal tree year after year." 
If you can't rent, buy a potted spruce and grow it in your garden for reuse each year. Or buy a FSC-certified tree to ensure it's from a well-managed forest and recycle it properly – most councils recycle trees by turning them into chippings, reducing their carbon footprint by up to 80 per cent compared with sending them to landfill.
Plastic trees, which can only go to landfill, have double the carbon footprint of a real tree. If you already have one, keep using it though!
©Good Housekeeping
2. Make your own sustainable Christmas decorations and reuse baubles
It takes the shine off the decorations when you discover that neither tinsel nor baubles are recyclable. Make your own instead with dried orange slice ornaments and sticks of cinnamon for the tree. Each is fully compostable, while wreaths made using foraged materials like pine cones, ivy and holly can be recycled at the kerbside. 
The other way to cut the waste is by reusing your baubles and other tree ornaments. We know there are trends and colour themes people like to adopt when decorating their tree but these can be second-hand and can include reusable baubles. Classic brass baubles are a good example - timeless, gold on a Christmas tree never goes out of style, and it's built to last a lifetime.
©31 Daily
3. Use an ethical search engine to look for gifts
If researching gifts online, use non-for-profit Ecosia. 80 per cent of their advertising revenue funds reforestation efforts in countries like Brazil and Indonesia. Plus, they don't save your searches, track the websites you visit, or sell your data.
Europe and the UK throw away obscene amounts of wrapping paper and the plastic, foil, glitter and sticky tape on many sheets makes them unrecyclable. Furoshiki, a traditional, reusable Japanese wrapping cloth is a fab alternative – or else use recyclable brown paper.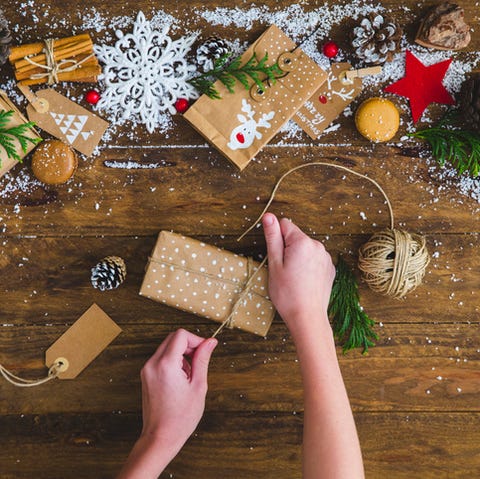 ©Good Housekeeping
4. Buy less and buy ethically
A YouGov survey found that 57 per cent of people in the UK receive at least one unwanted gift, so ask people what they want for Christmas – or give them a few options to choose from. 
According to a study, the amount of manmade material created each week weighs the same as Earth's total population. Don't add to it: re-gift unwanted presents, search for second-hand gems in charity shops, hand make your own sustainable safekeeps and avoid anything that requires batteries.
Loved Before is one of a number of organisations that find new homes for preloved playthings. They have save many a cuddly toy from an inglorious trip to landfill.
"I see it as changing the world one soft toy at a time," says founder Charlotte Liebling. "I'm not going to 'fix' climate change by reselling bears, but what I can do is show younger generations what second-hand and sustainability looks like."
©Greenpeace 
5. Plan better, eat less and donate your leftovers
The UK throws away a reported 2m turkeys at Christmas, crowning 270,000 tonnes of uneaten festive grub. To reduce waste, clear the fridge before Christmas, and plan and portion your meals sensibly. Share any leftovers on Olio, an app that pairs you with neighbours who might need them – and supplies recipes to make best use of leftovers.
© Feed Your Sole
Don't get me wrong - we realise affordability is a huge part in decision-making on whether or not to participate in Black Friday and/or Cyber Monday. For some people, it's not a choice. It's the only way to buy presents for the family. Having said that, those of us who can afford to make these little changes, can and should, so those who can't can still afford presents in the festive season without gravely impacting the environment. 
Next time you decide to shop online, ask yourself if you really need 'next day delivery' and whether the stress on the planet and people are worth that effort. We've been guilty of this ourselves in the past, but it's never too late to start making a change - one ethical choice at a time. Let's make this Holiday Season a green one.