When we hear 'timeless interior', we immediately picture classic and traditional interiors. However, there's so much more to it than just clean-lined classic furniture and home décor. At the end of the day, the idea of a truly timeless interior is one which continues to have a lasting appeal and style after years. In today's blog, we're looking at what makes an interior truly timeless and how we can complement timeless elements while staying on trend. 
At the very core of it lies a few simple rules: think designs made with quality materials that stand the test of time, patterns that never go out of style, colours that blend with any décor, and furniture that have tried-and-true silhouettes.
Before we delve into what timeless or trendy interiors include, it's important to situate yourself in this mix. It's your home after all, and it should reflect you. Your values, your ethics, your interests, and of course your personality. So without further ado, let's look at what inspires you and is your decorating style. Designer Carrie Barker suggests a simple and excellent exercise to define your decorating style. See below - 
Having done the exercise, there's one thing to remember - It's hard to know sometimes what you love when everyone is following design trends. Trends are fun, but they are just that … trends. They change, so it's important to stay true to your taste as...guess what, that never goes out of style! So, a timeless style is one that isn't tied to a particular design movement or a specific era - it exists outside these cycles but is something that continues to feel fresh and exciting. 
Timeless interiors are versatile and flexible so they can blend and adjust over time. Think of the timelessness of interiors as a liquid flowing through various receptacles - it assumes the shape of that which it's placed in and complements it. 
I won't bore you with any more warped metaphors, I promise  - so let's cut to the chase and look at our top three go-to ideas for putting together a timeless interior. 
1. Clean Lines 
I know, we hear designers say 'clean lines' all the time and it's something that ordinary people really struggle to understand. It simply means lines that are unbroken and uninterrupted. This can help lengthen or shorten a space visually. For example, if you have a long, narrow room, how you place your tile flooring can affect the appearance of the space. 
Clean lines can be seen as the neutral canvas on which to add your own personal touches. This enables it to always stay in style. 
Upholstered seating, tables, and large furniture that have clean lines never feel dated or "over", and they have sophisticated looks that will work with furnishings and décor in any style over time.
Adding furniture with detail, like a sofa or chair with turned legs or a table with ornamentation, isn't a no-go, nor is picking furniture from a specific era. But if you're going for timeless appeal, try to keep to furniture that doesn't have too many flourishes that reference specific design eras so as to allow a seamless blend.
© Dezeen
2. Layering & Blending 
Speaking of blend, one of our go-to methods involve layering natural textures and blending the old with the new.
A timeless home is almost synonymous with natural materials. Don't be afraid to incorporate wood, stone, linen, and of course greenery in your space. Layering of rugs is a classic technique to add texture and depth to your home. Consider adding Moroccan leather pouffes to add a bit of zhuzh to your living space. 
Don't shy away from mixing vintage pieces with new pieces. A vintage handira throw, or a hand restored kilim goes perfectly well with a modern minimalist sofa. Look for vintage pieces that have a classic look and mix it with some clean-lined modern pieces. The streamlined look of the furniture will blend nicely together.
© Havenly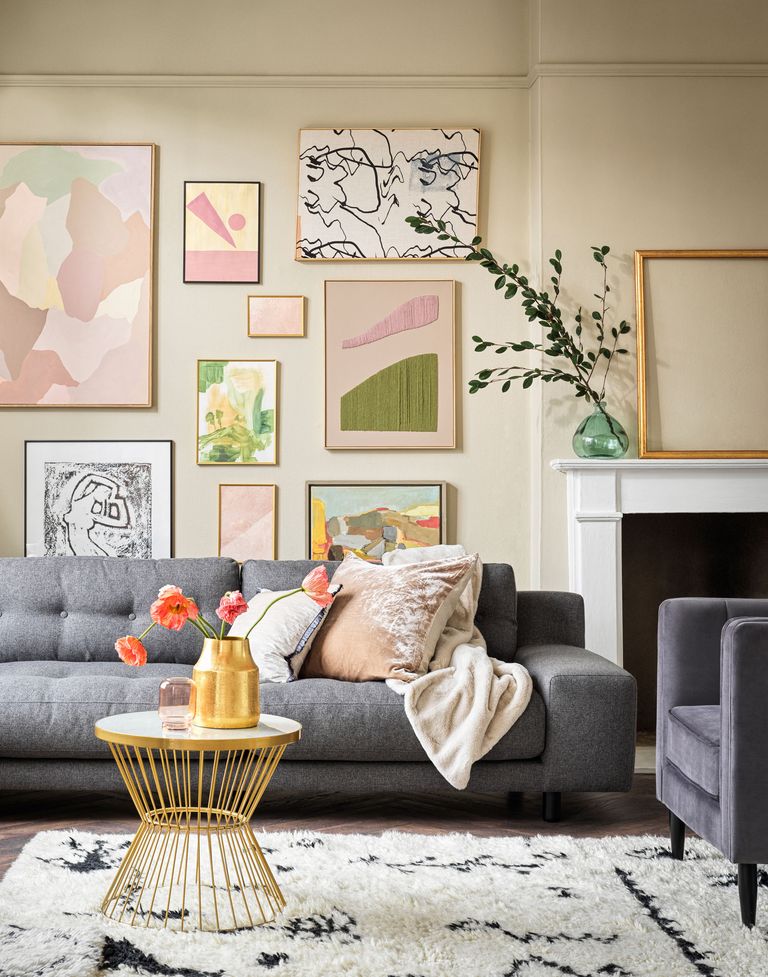 ©Homes and Gardens
3. Quality, Quality, Quality
Other than your own taste, the only other thing that doesn't go out of style is quality. For one, they're sure to last a lifetime. Durable pieces made with quality materials have staying power and can truly stand the test of time. Whether it's a large handmade area rug, or something smaller such as this damascene wall plate - you can rest assured that they're built to last. They're akin to the gold jewellery you inherit from your grandma or that Mont Blanc pen from your dad - built to stay with you for generations together. 
True, quality comes at a price, but think of it as an investment. As the saying goes - you buy cheap, you buy twice. 
©Jurande Interior
We know trends can feel like the perfect way to spruce up your home and breathe new life into it but we'd recommend to include these in small doses. Think of on-trend pillows with stylish eclectic patterns that you can introduce with ease and remove or replace over time. Another way in which you can play with trends in your otherwise timeless interior is by taking on trends that seem to be reincarnated in new ways, such as Art Deco. Modsy's verdict on this is 'Today, a modern approach to Art Deco involves mixing the key elements of this style with other design styles and eras, creating a look that's eclectic and unique. So, as a pure style, Art Deco isn't super trendy at the moment—but incorporating elements of this style within your home definitely is.' and we're here for it.